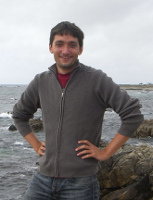 Affiliation: Équipe AN-EDP, Laboratoire de mathématiques d'Orsay, Université Paris-Sud

Research topics: Computational geometry, geometric inference, computational optimal transport. More generally, I'm interested in the discretization of geometric variational and inverse problems.
Address:
Département de Mathématiques Bâtiment 425
Faculté des Sciences d'Orsay Université Paris-Sud
F-91405 Orsay Cedex
E-mail:
Firstname.Lastname
@math.u-psud.fr
Preprints
A Lagrangian scheme for the incompressible Euler equation using optimal transport
Thomas Gallouët, Quentin Mérigot, 2016
Convergence of a Newton algorithm for semi-discrete optimal transport
Jun Kitagawa, Quentin Mérigot, Boris Thibert, 2016
Publications
Notes, thesis, surveys
A comparison of two dual methods for discrete optimal transport.
Geometric Science of Information, LNCS 8085, 389-396, 2013 [doi]
Quentin Mérigot
Geometric structure detection in point clouds
Thèse de doctorat, Université de Nice Sophia-Antipolis.
Events
6-7 décembre 2016: Première rencontre du projet ANR MAGA, "Transport optimal, équations de Monge-Ampère et applications", Inria Paris et IHÉS.
2 novembre 2015: Journées du groupe SMAI-SIGMA 2015, Institut Henri Poincaré.
16–20 décembre 2013: Journées de Géométrie Algorithmique 2013, CIRM.
3–4 octobre 2013: Journées transport optimal et modélisation, Grenoble.
27–30 mai 2013: Mini-symposium "Géométrie algorithmique et analyse géométrique de données", congrés SMAI 2013, Seignosses. Résumé des exposés.
I launched and organized the working group Calculus of variations, geometry, image at Laboratoire Jean Kuntzmann in 2012--2013 and 2013--2014.