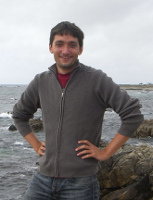 I am a researcher in applied mathematics and computer science working for CNRS at Ceremade, Université Paris-Dauphine. Before this, I was in Laboratoire Jean Kuntzmann in Grenoble.
Research topics: Computational geometry, geometric inference, computational optimal transport. More generally, I'm interested in the discretization of geometric variational and inverse problems.
Address:
Ceremade, Université Paris-Dauphine
Place du Maréchal de Lattre de Tassigny, 75775 Paris Cedex
E-mail:
lastname
@ceremade.dauphine.fr
Preprints
A Lagrangian scheme for the incompressible Euler equation using optimal transport
Thomas Gallouët, Quentin Mérigot, 2016
Convergence of a Newton algorithm for semi-discrete optimal transport
Jun Kitagawa, Quentin Mérigot, Boris Thibert, 2016
Minimal geodesics along volume preserving maps, through semi-discrete optimal transport
Quentin Mérigot, Jean-Marie Mirebeau, 2015
Publications
Notes, thesis, surveys
A comparison of two dual methods for discrete optimal transport.
Geometric Science of Information, LNCS 8085, 389-396, 2013 [doi]
Quentin Mérigot
Geometric structure detection in point clouds
Thèse de doctorat, Université de Nice Sophia-Antipolis.
Events