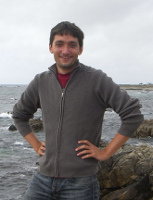 Professor in applied mathematics (équipe AN-EDP, LMO, Université Paris-Sud)
Coordinator of the MAGA project, funded by the French ANR.
Research topics: computational optimal transport, computational geometry, geometric inference. More generally, I'm interested in the discretization of geometric variational and inverse problems.
Address:
Département de Mathématiques Bâtiment 425
Faculté des Sciences d'Orsay Université Paris-Sud
F-91405 Orsay Cedex
E-mail:
Firstname.Lastname
@math.u-psud.fr
Publications
Notes, thesis, surveys
Inference of curvature using tubular neighborhoods,
Frédéric Chazal, David Cohen-Steiner, André Lieutier, Quentin Mérigot, Boris Thibert
Modern approaches to discrete curvature, Springer LNM, to appear
A comparison of two dual methods for discrete optimal transport.
Quentin Mérigot
Geometric Science of Information, Springer LNCS 8085, 389-396, 2013 [doi]
Geometric structure detection in point clouds
Thèse de doctorat, Université de Nice Sophia-Antipolis.
Events